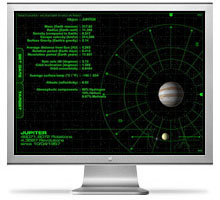 Cosmos Clock
This fullscreen planetary countdown clock application functions as a visually enticing screensaver, perfect for running on a home or museum kiosk computer.
Users enter a countdown date in the Cosmos Clock Controller window, choosing either a pre-selected one from a historical list, or a custom date of their choosing which can be either before or after the current time. Once the clock is started, the time counts either up or down to the date selected.
The clock searches the starry skies for targets and periodically locates a solar system planet at which time it outputs object data and calculates the clock time measured on that planetary body using its rotational and orbital periods.
Cosmos Clock is available as a FREE download.
Features
simple clock configuration via a Controller application panel
select a date from a list of interesting astronomical related dates in history
manually set any date you choose
set the date from within the running program
set the next target found using pop-out tab
hide the controller panel with a keystroke
visually interesting and great to use as a screensaver